Tinkering with Arduino
Tinkering with Arduino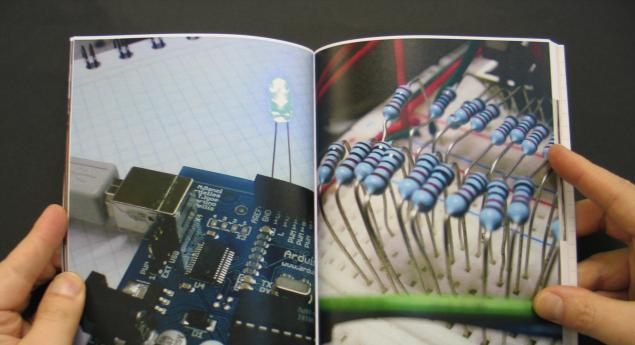 Nick Weldin has been teaching our workshops in the UK since we met him in 2007. Even back then, we wanted to allow him to share his passion and skills with a broader audience, and so we decided to make a book. Available for download or print on demand, the book has no official publishing company and uses Creative Commons images from the community and many many contributors.
Tinkering with Arduino is a cousin of Getting Started with Arduino, inspired by the pdf Massimo Banzi wrote some years ago. It goes through the basics of how to use Arduino, but from Nick's perspective--adding details about how electricity works, how programming works, etc.
We had the great pleasure of having Crystal Campbell and Ben Barker make this a truly visual piece of work. With 90 pages of beautiful illustrations from Crystal, as well as some of the original drawings from Elisa Canducci, Tinkering with Arduino is a beautiful visual package we are extremely proud of.
A part of what we're trying to develop with our work in education since 2007 is the language of technology and how it can be opened up to a broader audience and be presented in a friendly way that isn't off putting. We think that Tinkering with Arduino is a step in that direction.